Le Fâ – the archeological site at Barzan in Charente-Maritime – is seen nowadays as one of the most important Gallo-roman ports of the Atlantic coast. The existence of a prosperous town that played an economic role of primary importance, allied with the regionals capitals of Mediolanum (Saintes) and the whole of the Roman Empire, is gradually being unveiled. Through a museum and a visitor's trail to enable you to appreciate the history of the town and daily life of the Gallo-roman era.
//
History
The archeological site stretches out across the plain and is surrounded by a crescent of hills. The plain declines gently toward the estuary of the Gironde River.
People, probably farmers, began settling here about the end of prehistory in Neolithic times (about 3500 B.C.). At that time there was a village on top of the highest hill just at the place where you can see a small pyramid used as a seamark by sailors. A Gallo-roman city was built on the plain after many different, unknown groups of people successively occupied the area.
This site has been known since the 18e century. In 1708 an engineer of King Louis the Fourteenth, Claude Masse, gave us a detailed description. At that time the theater was still visible. It was partly preserved but unfortunately since then the neighboring people used it as a quarry to obtain stones to build their houses. Everything that was above ground has been leveled off. It is on the right of the farm which you can see at the foot of the hill.
In the 19th century, as the ploughing in the fields became deeper, more and more important pieces of architecture were discovered. The local people knew there was an important site underground. All of this led to excavations which took place from 1921 to 1939. Three monuments were uncovered: a huge circular temple, Roman thermal baths and a part of the theater. Those excavations had to stop when World War II broke out and they were never restarted. The site was abandoned and was overgrown by vegetation.
It was in 1975 that the site was rediscovered thanks to aerial photos. It was then realized that the site was far more important than previously thought. The plan of the town has been uncovered and today it encompasses nearly 40 hectares (about 100 acres). These aerial photos made it possible to see the plan of the circular temple. The circular base (the podium) is surrounded by a wall forming a square (each side about 100 meters long) with porticoes on each side. An avenue 500 meters long also appeared on the photos. It is lined with large warehouses (horrea) 60 meters long and 45 meters wide.
All these traces lead us to believe that this town was an important port. Come and experience a real discovery!
//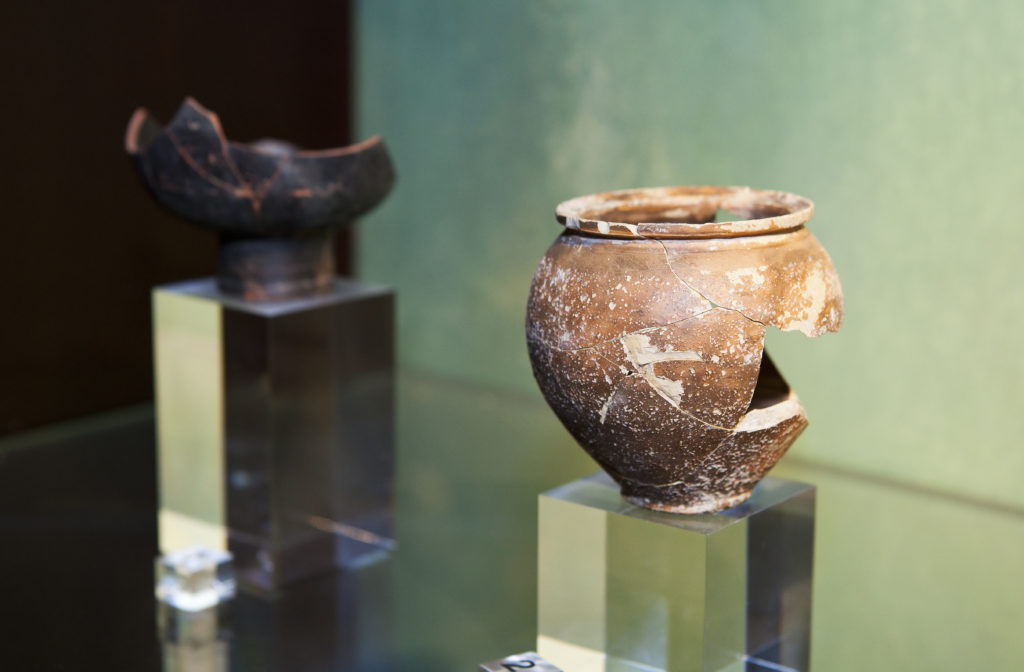 //
Site visits and activities
Today, you can visit the sanctuary (temple and surroundings), the thermal bath and the museum. There is a self-guided visit support in English.
For children, there is a "family visit" in French, every Tuesday and every Wednesday at 11:00 am (from July 12th and to August 31th).
Every Wednesday and Saturday, become a real archeologist! From 10:00 to 12:30, you can make excavations with an animator in real conditions (from July 13th to August 31th).
During holidays (spring, summer and autumn), there are many animations in workshops. "Daily life", "Roman army", "Gladiators" … An animator describes and shows you many objects by providing information.
---
In 2023, there are 8 main events:
//
//
Opening hours and tariffs
APRIL – OCTOBER – NOVEMBER: Wednesday, Saturday and Sunday from 2:00 pm to 6:00 pm.
MAY, JUNE AND SEPTEMBER 5th to 30th: from Wednesday to Sunday, 2:00 pm to 6:00 pm.
JULY – AUGUST AND SEPTEMBER 1st to 4th: daily from 10:00 am to 7:00 pm.
During French holidays on Spring and Autumn, every afternoon from 2:00 pm to 6:00 pm.
Groups: from February 1st to December 30th, only by reservation.
Adults: 5 €
Children: (8 to 15 years old) 2.50 €
Children (under 8 years of age): free
All visits and animations are included with this ticket (except excavations, 8€/person).
//
For your comfort :
Rest area (there is no on-site catering service)
Drink distributor
Fresh water fountain at arrangement
Free car park
Bus parking lot
Disabled people parking lot
Motorcycle parking lot
INFORMATIONS/RESERVATIONS : contact@fa-barzan.com / reservation@fa-barzan.com